A Profile is a collection of permissions and is used to control what actions each user can do in the system.
Each user must have a profile within the platform and that is why, every time we invite someone to be part of our workspace, we will have to assign a role.
This profile should be chosen based on the interaction that we want from the user in the platform. Let's see what options you have.
Types of roles:
The Administrator can see all the existing documents and signatures on the platform. In addition, it manages the templates, groups and users. It will also have access to the billing and management of the platform.
A Supervisor sees it's own documents and signatures, and those of the group to which the user is assigned.
Users / Creators only see the documents and signatures created by them.
Customized, a personalised profile can be configured to suit our needs.
The owner of the workspace, who by default is the initiator of it, will have access to the billing and management of the platform, in addition to the type of permissions provided by his profile.
Table of the different permissions according to the role.
Owner
Administrator
Supervisor
User
Manage billing
✔️
✔️
Manage workspace
✔️
✔️
Manage users and groups
✔️
Create and edit templates
✔️
Create documents
✔️
✔️
✔️
Consult documents
All
Of your group
Yours
Create signatures
✔️
✔️
✔️
Consult signatures
All
Of your group
Yours
Create certified emails
✔️
✔️
✔️
Consult certified emails
All
Of your group
Yours
Personalised profile
When we are inside "Profiles" we have the option of creating new ones to customize them according to our needs.

Within this new created profile, we can assign different types of roles to each of the aspects that make up the tool.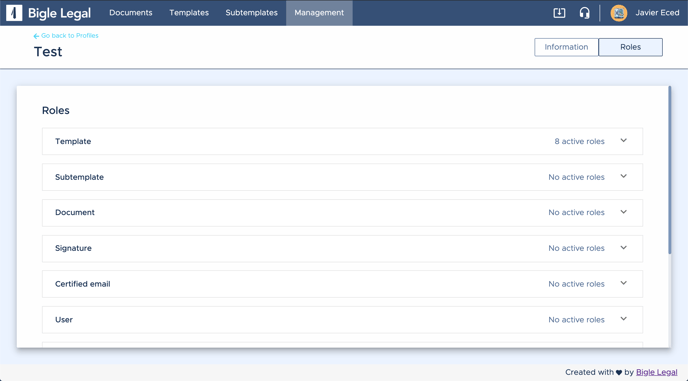 Each of the roles expands, as we see in the enlarged image below, to activate or deactivate the options inside them and thus configure our new profile.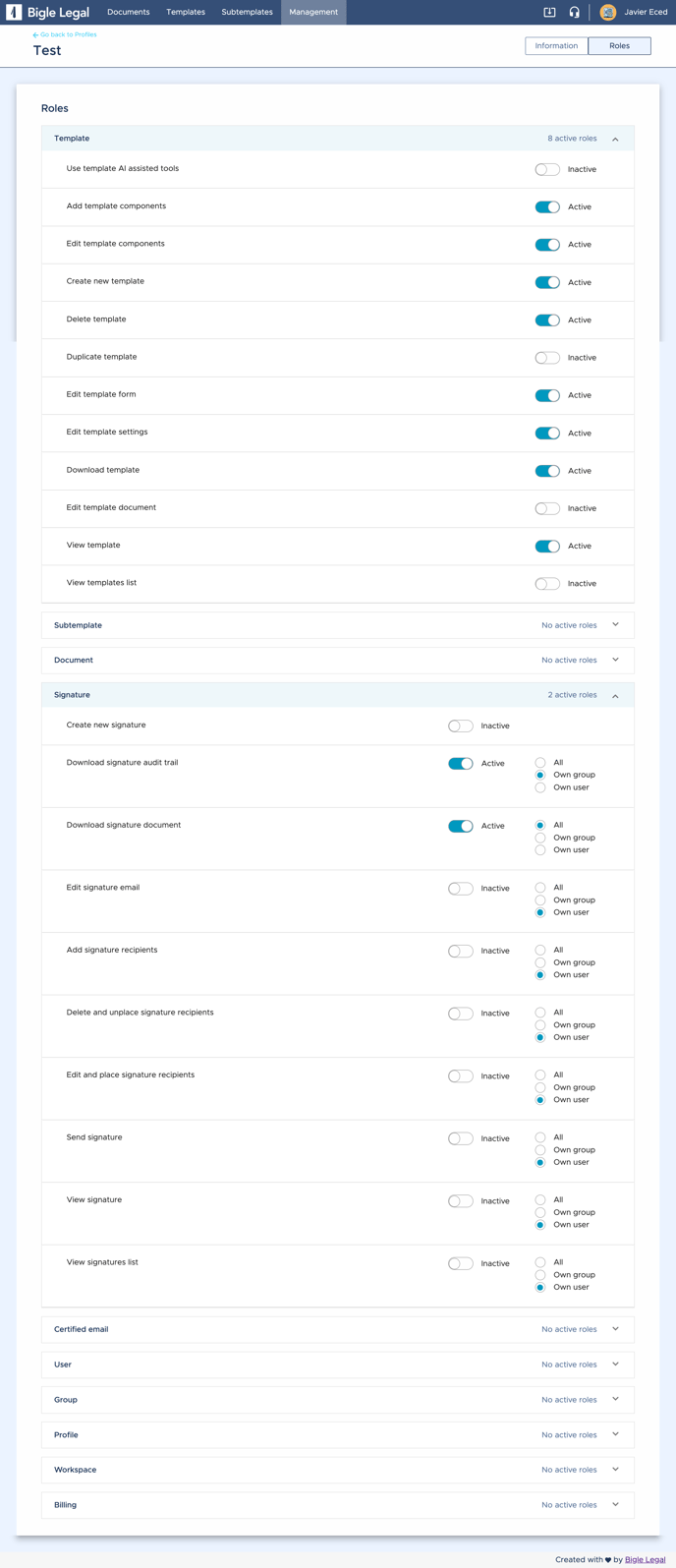 Any changes you make to your custom profile settings will be automatically saved.