Share the form with third parties so that they themselves fill in the necessary information.
Thanks to this functionality, you can share the forms so that the people involved in a document can fill in the different parts independently.
This option to share is done through a link that you previously customize so that our "collaborators" receive only the questions we want them to respond to.
To do this, follow the following steps:
Enter the document.
Click on the button share (on the right-side menu).
Customize this link by choosing the visibility of each block (editable, visible, hidden).
Click on the button to generate link or send link.
Copy the link to be able to paste and send it to its recipient or write down the email of the recipient.
Repeat the same steps to create as many different links as necessary.
See below in detail the different parts that appear when we share it:
1. Left column
You can see the title of the block as the main text. Just below each title, the option that we have chosen is indicated in the options on the right.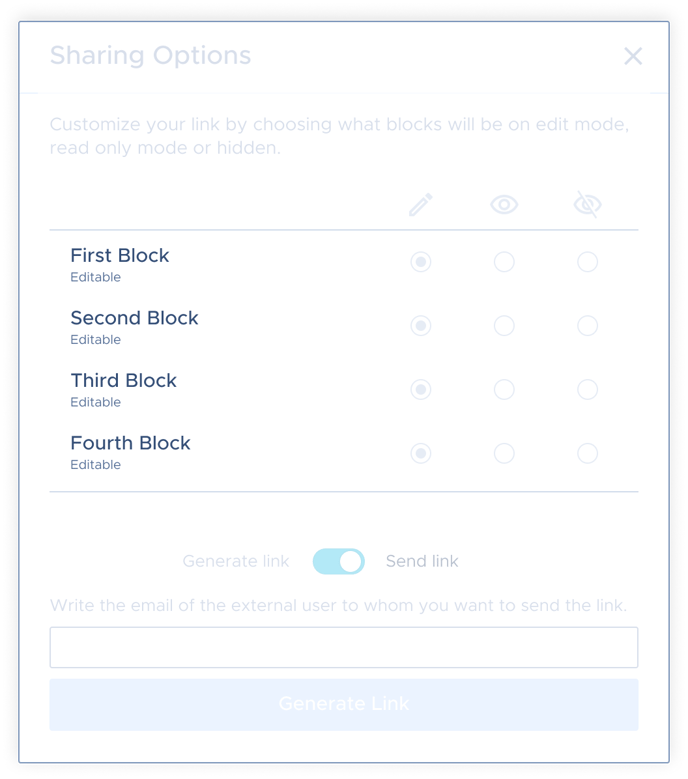 2. Right part
It is where we select the configuration of the blocks to be shared. We have 3 options to choose from: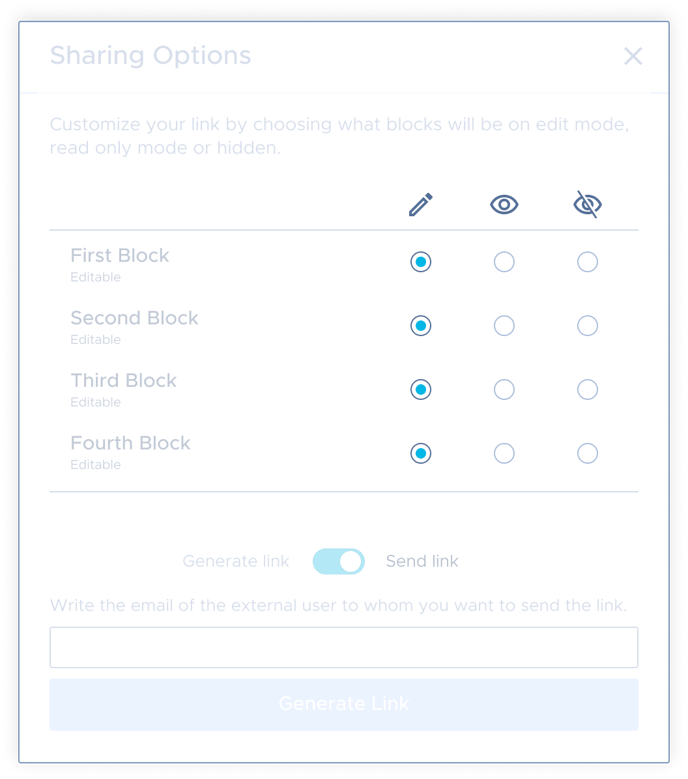 Editable block: The recipient will be able to see and answer the questions in the block.

Visible block: The recipient will be able to see the block but not introduce information.
Hidden block: This block will not appear to the recipient when we share the form.
3. Generate link.
Once you have selected the configuration of each block, click on the generate link button and the link to share will appear.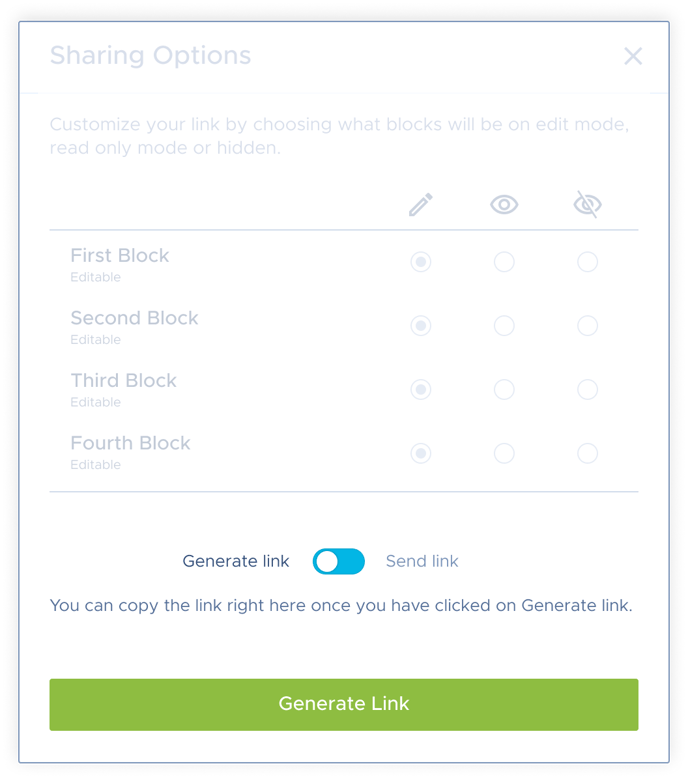 Once you have clicked the button it will change his appearance so the generated link can be copied.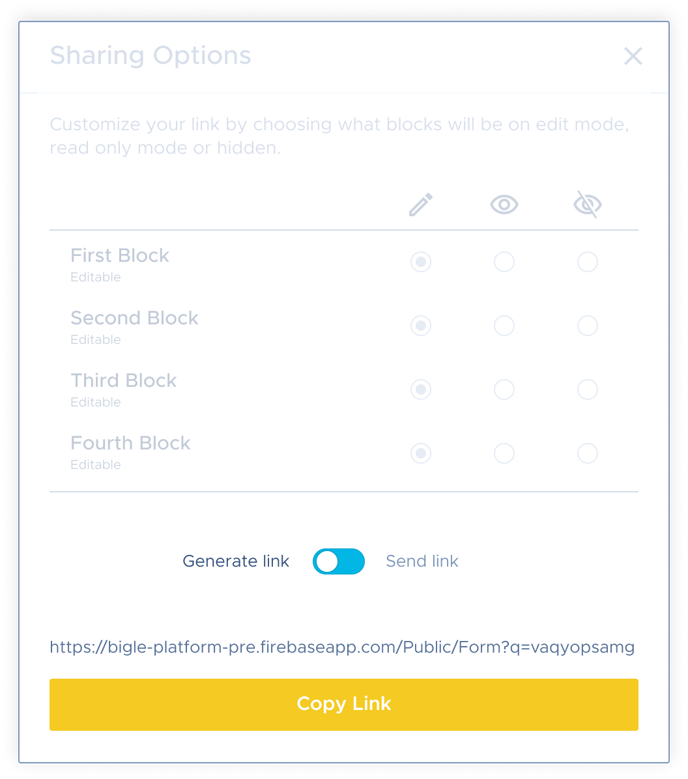 This link is customized based on the selection made, if we want to change the configuration we must repeat this process and generate a new link.
4. Send link via email
Another way to share the form is to send it directly by email. We will only have to write the email of the person we want to receive the form and an automatic email will be sent to him/her, which will give him/her access.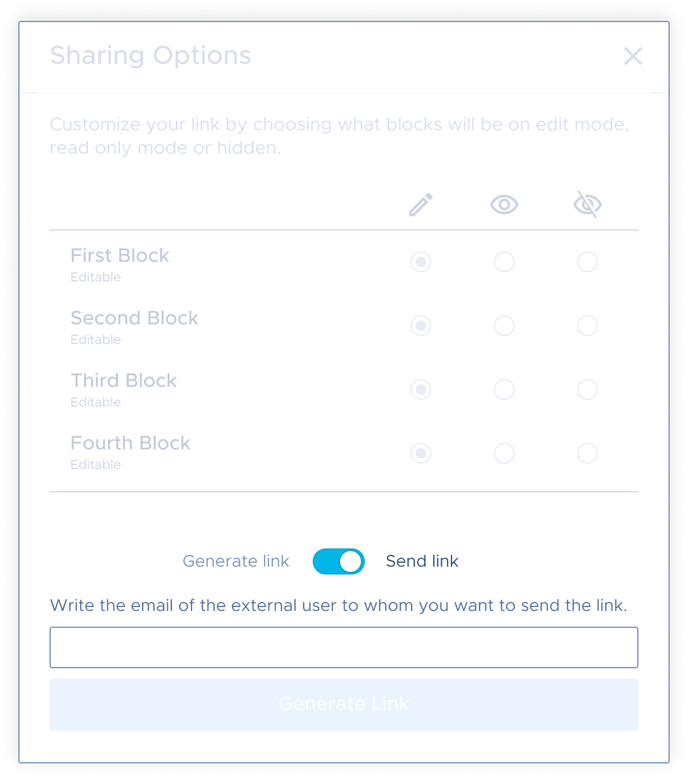 5. Result
As a result of the configuration, the panel would have the following appearance, where the first block would be editable, the second visible, and the third and fourth would be hidden.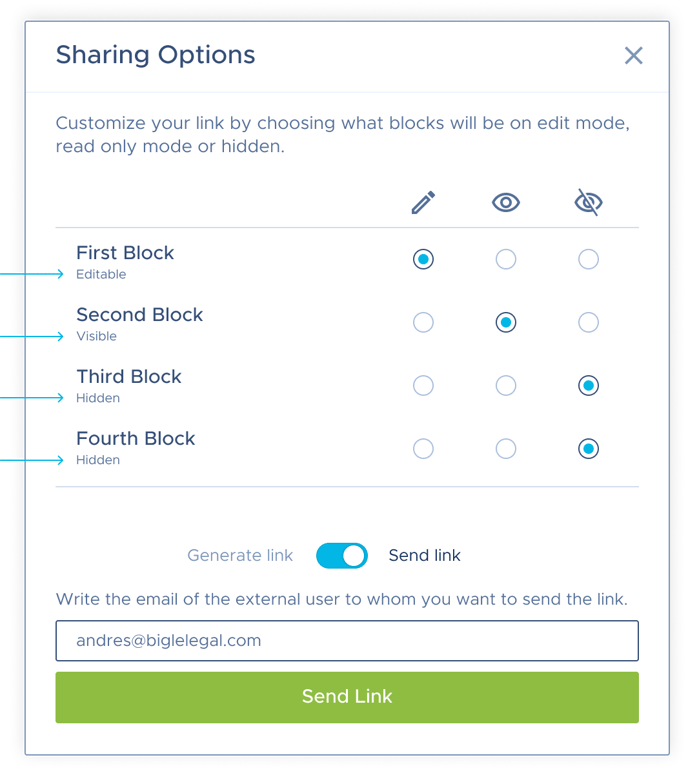 Given the previous configuration, this is how the form would look for the recipient of this link:
View of the editable block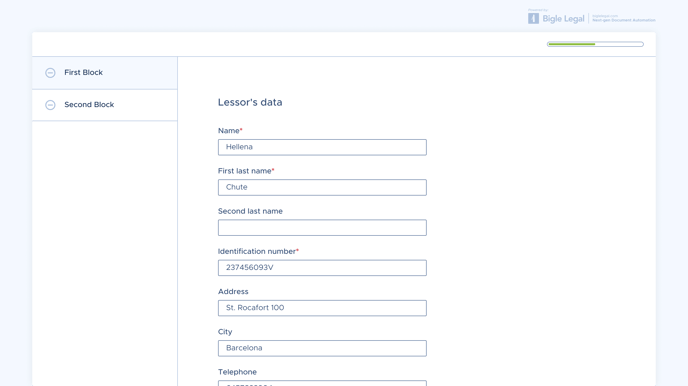 View of the visible block (not editable)
When the person who receives the form completes it and finishes it, we will receive an email notification indicating the completion of the form.